Welcome Back!
Sorry I haven't been posting as frequently, but the days leading to Christmas are always hectic, especially since I worked on most of them.
Well, I hope you all had a wonderful Christmas. Today I am going to write about some delicious treats that you can make for the holiday season.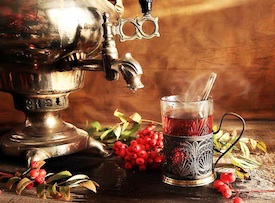 First up is Spiced Russian Tea
Russian tea originally was imported from China to Russia by camel caravans and served traditionally from a large tea urn or samovar. Russians like to drink their tea with lots of lemon and sugar, but no milk.
Recipe is as follows:
6 teaspoons Russian blend or any good black tea
1 pinch cloves
1 1/2 freshly boiled water
Place tea and cloves in a pot, add water, and brew for five minutes before pouring. Add sugar and lemon to taste
Spiced Ginger Tea 
This tea is excellent for the cold season (well not really if you live in Florida). It has all sorts of heath benefits and will really warm you up for a cold, winter day.
You will need
6 cups purified or spring water
1 1/2  tbsp fresh ginger, peeled and chopped into small bits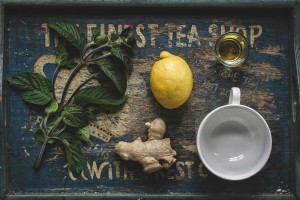 2 medium lemons juiced ( about 1/2 cup of fresh lemon juice)
1/8 tsp of cayenne
1/4 tsp cinnamon ( or I stick)
1/4 cup of maple syrup grade B ( or whatever sweetener you prefer)
Instuctions
Add the two cups of water and the fresh ginger to a high speed blender. Blend from low to high for about 60 seconds, until the water turns slightly yellow color and all the ginger has been pulverized
Pour this ginger mixture along with the remaining 4 cups of water into a large pot and bring to a boil. Add in the cinnamon or cinnamon stick. Reduce heat to low and simmer for 5-10 minutes. (Note: If you have a Vitamix, you could also just use the "soup" feature to warm your tea!)
When the simmering time is up, pour the tea back into the blender container, but use a mesh strainer to catch any of the ginger pulp and particles. A large mesh strainer will make things easiest, although a small strainer could work too. You could also use a nut milk back if needed.
Add the lemon juice, cayenne and sweetener to the blender as well and do a quick thirty second blend on low to mix the ingredients.
Take a sip and add additional cayenne or sweetener to taste. Serve warm. Store leftovers in the fridge and serve chilled or re-warm in a microwave or on your stovetop. Or even in your blender on "soup" setting.
Yield: 6 cups
Prep Time: 00 hrs. 05 mins.
Cook time: 00 hrs. 10 mins.
Total time: 15 mins.
Nutrition
Calories: 42kcal per cup
Well enjoy your holiday teas and I will be posting more in the next couple of days.
Recipes found from
Emile Barnes "If Tea Cups could Talk" book
and HealthyHappylife. com http://kblog.lunchboxbunch.com/2014/10/speedy-spicy-fresh-ginger-tea-or-apple.html
Russian tea picture found at http://www.buyrussiansamovar.com/russian-tea-time/