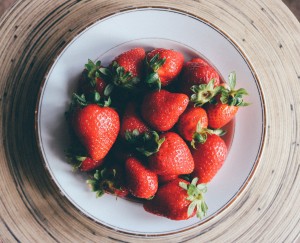 Hello again,
I realized that I don't have that many recipes for your tea hour on my website. So starting today, I will post some of my favorites and some recipes that I recently discovered.
So last week I made some delicious strawberry scones. We has a carton of strawberries, but they were going sour fast, so that is the reason I decided to look up some strawberry scone recipes.
So this is the recipe that I followed found on instrucables.com on fresh and delicious strawberry scones.
Here is the recipe
1 cup fresh strawberries (or other fruit), chopped
3 tablespoons sugar
2 cups (250g) all-purpose flour
2 teaspoons baking powder
1/4 teaspoon salt
6 tablespoons (85g) butter, in cubes, slightly softened
2/3 cup (160ml) cream or buttermilk
1 extra tablespoon sugar to top
DIRECTIONS:
Preheat oven to 400F (205C). Lightly grease a cookie sheet or line with parchment.
Cut fruit into small pieces.  If using fresh fruit, toss with 1/2 tablespoon sugar and set aside to macerate.
Combine remaining dry ingredients in a large bowl.  Add butter and combine using a pastry cutter, two knives, or (my favorite) very clean hands, until very well combined.
Add fruit and cream or buttermilk, and stir until it all holds together and all of the dry ingredients are just combined.
For little round scones:  Scoop 1/4 cup size mounds onto the cookie sheet with an ice cream scoop.
For more traditional triangular scones: Turn dough onto a lightly floured surface and knead a few times to get everything sticking together.  Sprinkle with extra flour if it gets too sticky.  Form into a circle about 3/4″ (2cm) thick.  Cut into wedges with a knife and transfer to cookie sheet.
Bake scones for 15 minutes.   
Sprinkle tops of scones with reserved sugar and bake and additional 5-10 minutes until tops are golden brown and spring back when you touch them
Here are some photos of how these scones turned out.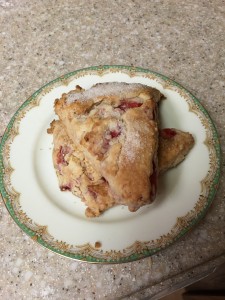 Enjoy!
See you soon!
Alyssa