Hello again!
I totally forgot to post this on Sunday, when it was Mother's day, so I am doing it now.
So this is what my sister and I do for our Mother's Day Tradition.
Ever since my sister and I were around fifteen, we gave our mother poetry books that we wrote previously. Actually it started during the Christmas season, and we tried to have a poems book written by Christmas, but it always took longer than we anticipated, so it was usually done before Mother's day.  So it became a tradition to give poem books to Mom on Mother's Day.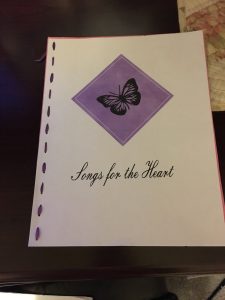 Every year I decide on the poem's topic.  Last year it was about dreams and ambitions. This year it is about songs. Usually it takes about two or three months of writing, then a month or so of editing. then a couple of hours of assembling the book. I got a book binding kit years ago at a Home-school convention, and used it ever since to make these poetry books. It is a lot better than trying to sew sheets of paper by hand, which my sister and I have done before and takes a long, long time.  However, this year, as my sister and I worked, it was only a week of writing, and 10 hours of editing.  I was pretty happy with the  result, though I knew if we had more time, we could of done a lot better, especially with the design and editing, as there were a few typos we seemed to miss.  Nevertheless, no matter how busy my sister and I are, we defiantly did not  want to miss our little tradition of giving our mother these poems, as a "thank you" for being such a wonderful mother to us all.
Our mother is usually so surprised when we present her these books and a little something else such as a candle or fragrant hand soap.
Do you have any Mother's Day traditions? If so let me know in the comments, as I would love reading them.
Have a happy Thursday,
Alyssa