Happy Tuesday all!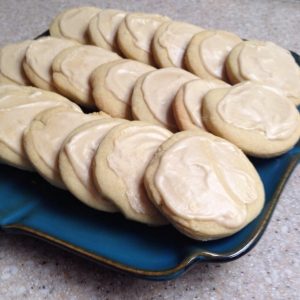 Recently I made these cookies to celebrate a co-worker's graduation from college, and they were a absolute hit.
They are also very pretty cookies, so I thought they would also make a lovely tea time treat.
So, here is the recipe
Vanilla-Butter Sugar Cookies
1-1/2 c. sugar
1-1/2 c. butter softened
2 eggs  beaten
2 T. vanilla extract
4 c. of all purpose flour
1.t.baking powder
1.t. cream of tarter
1 t. salt
Garnish: colored sugar, candy, sprinkles
Combine sugar and butter: beat until creamy. Add eggs and vanilla; beat well. In a separate bowl, stir together remaining ingredients except garnish. Gradually add flour mixture to sugar mixture until completely blended.  Cover and chill for 30 minutes. On a lightly floured surface, roll out dough to 1/4-inch thickness. Cut with cookie cutters dipped in flour. Place on un-greased baking sheets.  Bake at 350 degrees for 10 -12 minutes.  Cool on wired racks.  Frost cookies with Powdered Sugar Frosting, decorate as desired. Makes 3 to 4 dozen.
Powdered Sugar Frosting
1-1/2 c. powdered sugar
3. T. Butter softened
T vanilla extract
1.T milk
Combine all ingredients; beat until creamy.
Recipe from Best-Ever Cookies by Vickie and Jo Ann