I realized that I haven't done a Tea review in a long time. So I thought that it was high time to do one today
So first up is the tea that you might remember from my post, "Tea Time with Sister" which is the 'Cinnamon Vanilla Healthy Skin Tea."  This is a seriously delicious tea. If you have ever had a vanilla cookie, with cinnamon sugar on top, then you know what this tea will taste like.  I also like how this tea is helps clear and moisturize the skin. This will be especially good tea for anyone who has skin issues, like myself.  Also, this tea can be drunk cool without affecting its flavor, which makes it a perfect tea for these hot summer months.
The second tea I have been enjoying is  English Breakfast Black Tea.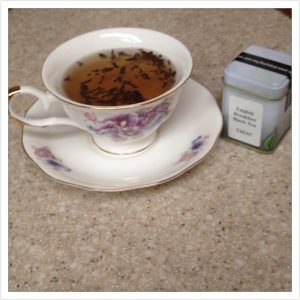 This is the tea that I got with my tea set in March. This tea has a sweet earthly flavor with a nice richness. The richness of the tea makes it perfect for breakfast, or in the afternoon when you need something to wake you up. I usually take this tea whenever I feel drowsy and it really helps me regain my alertness and concentration, especially when I have been looking at my computer screen for too long.
Well I hope this tea review is helpful and allows you to go and experiment with tea. Let me know in the comments what your tea favorites are, as I would love to know. And let me know if you would like me to post anything on a particular topic.
Have a happy Tuesday,
Alyssa