Today, we are continuing our series of famous tea rooms across the world. In this post we will be focusing on the tea rooms in England. I may go into the specific cities in England in future posts, because as I was researching, there were quite a long list, that would be too long to detail here.
Here is one comprehensive list of tea rooms around England.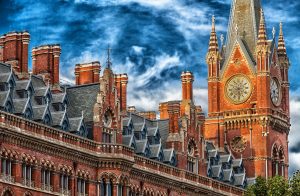 First up is ,Gillam's tea room
As you make your way to the tea room, you will be delighted  by the smell of fresh bread, flowers, and fresh heaped produce in the stalls of Ulverston's street market, and fall in love with the quaint shop from this Cumbrian gem.
This store's original grocer opened across  the street in the lat 1800's. Nowadays, visitors warm their damp jackets by the open fire, before eating a scrumptious meal of welsh rarebits, fruit scones, and Cumberland fruit tea bread. The choice of loose tea has a wide scope ranging from organic Sencha to chocolate chia and the smokey deliciousness of Russian caravan.
Next is Orchard Tea Garden
This tea tradition started in 1897 when a group of Cambridge students asked if they could take their tea in the orchard rather than the front laws as it was the custom.  Today, it is beloved of students and travelers' alike.  Imagine thick, fresh, fat scones with strawberry jam and clotted cream. Well this tea room serves all with a tidbit of history. University students walk or cycle the two miles from Cambridge along Grantchester Meadows, savoring the languid, trippy air.  One former university student, Robert Brook, who lodged nearby Orchard House, immortalized afternoons here, "And flower lulled in sleepy grass, there the cool lapse of hours pass."
Dolly's Tea Room and Bar
This tea room is tucked above a book seller on Falmouth winding high street. If you blink you may miss the entrance.  In side are reminiscence of Dolly's high ceilings Georgian former glory. This tea room is also furnished with chapel chairs and reclaimed tables.  The atmosphere here is peaceful and relaxed.  There is a piano in the corner that is played often with music ranging from Chopin to the Smith's  and to Dolly's favorite, the theme song from the Muppet Show. Also, there are a variety of magazines to read  including  Vogue, Vanity Fair, and Harper's Bazaar, and books borrowed from the bookstore downstairs.
Here you can expect to find all the trimmings of afternoon tea with illy coffee, flowering exotic teas, cream teas, and cakes, including the historical Victorian sponge and lavender treacle.  The staff here are pleasant and clad in vintage attire.
Comins Tea House
This tea room lies in the tiny Dorset Market Town of Sturminster Newton. Served here are cakes and light lunches. But what this tea room is really all about is single estate tea.  Serious tea drinkers come for the Autumnal Flush  Darjeeling From the Makaibari estate or Da Hong Pao from the Wuyi Mountians. This is sourced by Michelle and Rob Commis who inspired by a trip to Darjeeling became tea merchants. Each fine brew comes with tiny cups and a kettle for a second and third flush.
Betty's  Tea Room
People from around the world come and take the famous afternoon tea here. Betty's has spent 96 years of perfecting this wonderful English tradition, blending it with Swiss origins of the owners, to the warm character of the country of Yorkshire.  Afternoon tea includes a pot of tea room blend, a selection of sandwich choices: Scottish smoked salmon and cream cheese, roast Yorkshire ham, roast free-range chicken breast and egg mayonnaise & cress. Also served are   sultana scones served with  strawberry preserves and Yorkshire clotted cream and hand-crafted miniature cakes.
That is all for now, have a happy Thursday,
Alyssa
Information found at this website and the Tea Room Websites themselves.