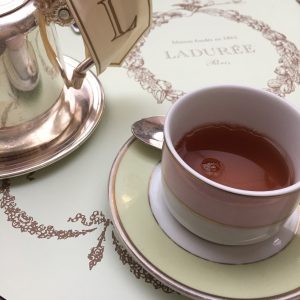 Today we are learning all about proper way to eat and drink cream or Devonshire Tea
A little history..
The great tea tradition began to flourish in the westcontry when the railroad brought many people to places faster than the traditional horse and buggy. Many visitors came to the south of England to relax and indulge themselves.  Accordingly, hotels, tea rooms, farmhouses, and cafes were happy to oblige.  They did this by offering fresh afternoon tea made from the finest local ingredients. As according to the Devonshire tea, the jam was always strawberry and the cream was always clotted.
Drinking and Eating Guidelines
Putting in sugar and lemon- tea is poured first, then sugar, or a finely sliced lemon. Never pour milk and lemon together as it will cause curdling
Milk always goes after the tea
The hostess pours the tea for her/his guests
Tea is stirred quietly
The stirring spoon is never left in the tea cup, it is placed beside the cup on the saucer when not in use.
When eating from a tea tray, the savories are eaten first, then the scones, and lastly the sweets
It is practical to split a scone horizontally before adding the jam or clotted cream
Always eat with your hands neatly, larger pastries  can be eaten with a dessert fork.
And there you have it, a proper Devonshire tea!
Have a lovely day,
Alyssa