In today's blog post, following last week's post on  "Proper Devonshire Tea"  we will see how to make the traditional Devonshire tea scones.
Ready? Let's get baking!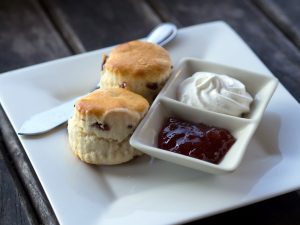 Ingredients
2 cups Self Raising Flour (plus extra flour for dusting)
2 tablespoons Unsalted Butter (diced)
2 cups Milk
1 1/2 teaspoons Baking Powder
1 tablespoon Sugar
1 pinch Salt
Original recipe makes 12 Servings
Preparation
Preheat oven to highest temperature.
1. Sift flour and baking powder into bowl, stir through salt and sugar.
2. add diced butter and using tips of fingers blend butter and flour mix, until mixture looks like breadcrumbs.
3. Using a knife slowly and gently mix in milk until a thick, sticky dough has formed.
4. Dust bench top with flour to prevent sticking, scoop mixture out onto foured bench, and sprinkle top of mix with a little extra flour.
5. Dust hands with flour and form mixture gently into a large ball (do not overwork dough as this will lead to tough scones)
6. Using the palm of the hands carefully flatten dough to about an inch or 10cm thick round.
7. Use a smooth round glass as a cutter, dip glass into flour and cut out rounds, place on a lightly dusted oven tray.
8. Reform round and continue cutting until all pastry is used.
9. Use left over milk to brush tops of each scone.
10. Bake in oven until pale gold on top, remove and allow to cool before serving.
Serve slightly warm with a pot of tea and clotted or whipping cream, and jam.
And enjoy this treat while you have your tea hour with a nice book, or relaxing music.
Have a lovely afternoon,
Alyssa
Recipe found here