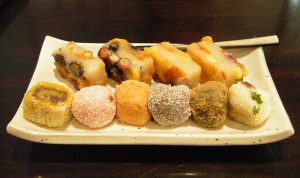 Keeping with the theme of China, I am going to share some recipes that will go perfectly with you Chinese tea.
First up is
Chinese Almond Cookie Recipe   
Ingredients
All-purpose flour — 3 cups, sifted (in Haodou's original recipe, she uses cake flour. I didn't have it when I had the urge to try the recipe. It turned out that the all-purpose flour works fine. If you are not convenience-oriented, try to use cake flour.)
Sugar — 1 cup
Baking soda — 1/2 teaspoon
Salt — 1/2 teaspoon
Butter — 1 cup
Egg white — 4
Egg — 1
Almond extract — 1 1/2 teaspoons, you can duble it if you really like the taste of almond
Almond or Almond slices — 1/4 pound
Egg — 1, beaten
Directions
Pre-heat oven to 325 degrees Farenheit
Sift flour, sugar, baking soda and salt together into a bowl. Add egg, lard and almond extract. Mix well.
Roll dough into 1 inch balls. Set them 2 inches apart on an ungreased cookie sheet. Place an almond or a couple of almond slices on top of each cookie and press down to flatten slightly
Brush each cookie lightly with beaten egg before baking. Bake for 15 – 18 minutes until golden brown. Cool and store in a sealed container.
Read more: http://www.amazing-chinese-food.com/chinese-almond-cookie-recipe.html#ixzz4QrTheSDI
Next recipe is:
Chinese Rice Cake recipe  
Ingredients:
Water — 2 cups
Sugar — 1 cup
Glutinous rice flour — 1 bag (1 pound)
Eggs — 3
Veggie oil — 1/3 cup
Raisins — 1/4 cup or to taste
Walnuts — 1/2 cup or to taste
Baking powder — 1 teaspoon
Directions:
Preheat oven to 375 degree F.
Mix water, sugar, oil, baking powder, eggs and glutinous rice flour in a large bowl. Use a mixer to blend well, low speed first, then medium speed for about 2 minutes.
Add raisins and walnuts. You can broke walnuts if you prefer smaller pieces of this nut. Blend evenly with the glutinous rice mixture.
Spray a glass baking pan and pour in the mixture.
Bake for 45 minutes.
Let it cool. Cut into 1×1 inch size or the size you desire.
Eat some pieces first before they are gone, fast! (This is not on the original recipe.)
I hope you will try out these recipes. I know I will.
Have a happy Wednesday,
Alyssa
recipes found at this website