Welcome Back!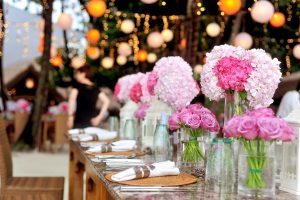 As the first day of spring is today, I thought I would share with you some beautiful table decorations that would be perfect for all your spring or Easter Tea parties.
So get your cup of tea, and let's get started.
First centerpiece is a
Butterfly Topiary
For this you will need a:
3′ in Terra cotta flower pot
Green florist foam
Green moss
3 sheets natual earth  or textured papers 8'x11″  each
1 mental butterfly on 6″ stick with "rusted finish"
Hot glue
Decoupage glue
Sponge tip paint brush
Rip pieces of earth-toned textued papers into randomly shaped pieces of approximately 2′ x2′ in size. Apply decoupage glue to the back of each piece of paper and lay on pot. Mix the different papers to give a natural patchwork effect. Cover the pot entirely. When compleletly covered, apply a coat of decoupage glue over the entire pot. Note: Make sure you carry your paper strips up and over the top to the inside "lip" of the pot
Insert florists foam into the pot
Apply hot glue to top of foam and press green moss into place.  Let some of the moss fall over the edge of the pot for a natual, hanging effect. Push butterfly decoration into the center of the foam, pushing the stick 11/2 into the foam.  using craft sissors cut the 1/8′ strips of rusty finished metal and cluster together. Push them into the pot and bend slightly to creat the same effect as a blade of grass.
Evergreen Candle
This is a very simple craft.
You will need
Glass hurricane candle holder
Evergreen pieces
Spray adhesive
Pillar candles
Start with cleaning your glass hurricane candle holder with a glass spray. Then pick out your evergreen pieces that you would like to use. Spray the adhesive on them. Wait until the adhesive becomes a bit tacky and then put them as you like it on the candle holder. Once the adhesive is dry, you can trim the stems of the evergreens with a pair of pliers or garden clippers. Now you have a beautiful centerpiece for you garden party.
Flower Balloons
We are never too old to enjoy balloons and this is a great idea for those who love balloons. I am linking the project here as it is rather long and the directions are quite detailed on the website and there is pictures as well. Enjoy!
DIY Flowers
And a garden centerpiece cannot be complete with a bunch of flowers. You can arrange fresh flowers, or if you are crafty, you can make your own paper or tissue paper flowers.  I am inserting a link here  for you to make your own tissue flowers, as again, the directions are rather lengthy and there are wonderful pictures on the website that I cannot insert here.  Have fun!