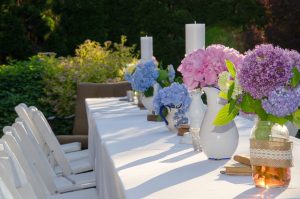 As everything is blooming and getting warmer outside, it is the perfect time to gather for a garden tea party.
Today I will guide you in setting up the perfect garden tea party.
The first step to a perfect garden tea party is making sure that your garden is well tended. Make sure that there is fresh mulch in the flower beds, weeds tended to, and any dead ends cut off. Your garden should be like your centerpiece. It will be the focus of the party.
Once the garden is underway to looking spectacular, you can focus on your menu planning and table decorations. Maybe you would like to use some of the crafts that I wrote about in the last post.  Once you have decorated your table and the surroundings, then it is time to plan your menu.
As it is spring, why not try to use some spring recipes. Use jasmine tea or fresh dandelion tea.  Have fresh bowls of fruit and jellies. Try fruit or herbal scones such as lemon, blueberry, strawberry, etc.   Now that winter is finally over, it is time to celebrate as spring is beautiful as well as delicious.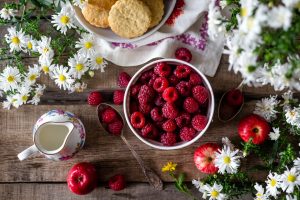 Here are a few spring recipes you can try, starting with some delicious scones
 Sweet Lemon Scones
Ingredients
2 cups of all-purpose flour
1/2 teaspoon salt
4 tablespoons sugar
1 tablespoon baking powder
3 1/2 tablespoons butter
1 8-ounce carton low fat lemon yogurt
2 eggs, separated
1 teaspoon grated lemon peel
3 tablespoon heavy cream
Directions
Preheat the oven to 425.  Stir together flour, salt, sugar, and baking powder. using a pastry bender, cut butter into flour mixture until it resembles coarse crumbs. Stir together the lemon yogurt, egg yolks, and lemon peel. Ad the flour to the mixture and stir lightly with a fork. Add cream 1 tablespoon at a time, until dough begins to clump together. Gather dough on lightly floured surface and knead just three to four times or until the dough holds together. ( Do not overwork) Pat dough into a rectangle about 3/4 inch thick and cut wit ha 2-inch round cookie cutter. Place scones on a ungreased cookie sheet and brush tops with beaten egg whites. Bake for 10 minutes or until light brown. Serve warm.  Makes 16 scones.  recipe from "If Teacups could Talk"  by Emilie Barnes
 Fresh Herbal Scones
Ingredients
2 cups flour
1⁄4 cup fresh parsley, chopped
1 tablespoon sugar
1 tablespoon fresh thyme or 1 teaspoon dried thyme, chopped
3 teaspoons baking powder
1 teaspoon fresh rosemary or 1⁄4 teaspoon dried rosemary, chopped
1⁄2 teaspoon salt
1⁄3 cup butter or 1⁄3 cup margarine
1⁄2 cup milk
1 egg, slightly beaten
Directions
Heat oven to 400 degrees.
Lightly grease cookie sheet. In a large bowl, combine flour, parsley, sugar, thyme, baking powder, rosemary and salt; mix well.
With pastry blender or fork, cut in butter until mixture resembles coarse crumbs.
Stir in milk and egg just until moistened.
On floured surface, gently knead dough 10 times.
Place on cookie sheet; roll or pat dough into a 6″ round.
Cut 8 wedges; separate slightly.
Bake for 15-20 min.
or until golden brown.
serve warm.
recipe found here
Tangerine Special Tea
4 Tangerine slices
12 whole cloves
4 sticks of cinnamon
2 tablespoons of sugar
4 cups orange pekoe tea brewed with the rind of one tangerine
Stud each slice of tangerine with 3 cloves. Now place a tangerine slice , a cinnamon stick, 1 1/2 teaspoons sugar into each cup. Fill with hot tea from the pot. Serve, using the cinnamon stick to stir the tea. Recipe makes four cups.
recipe from "If Teacups could Talk" by Emilie Barnes
Have fun, and enjoy fellowship, as that is what tea parties are for.
Until next time,
Alyssa