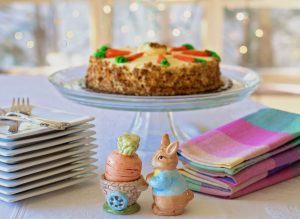 As Easter is just around the corner, why not throw an Easter Tea Party?  Today I will guide you though how to prepare for something for everyone.
Let's get started!
Organize first what activities you will be doing for your tea party. Are you going to have a Easter egg hunt for the younger ones? Or have a bit of everything for different ages? When planning the activities, just make sure you have the space for them.
Once the activities are planned out, now it is time to focus on table decorations and food preparation. Decorate the table with Easter decorations, such as pastel eggs, or my favorite as a child, a Easter egg tree. We had a little white tree , and it came with many varieties of little colored pastel eggs, and we were allowed to decorate it as the centerpiece for the living room or table. Also there are plenty of DIY ideas on pinterest if you need some inspiration.
After the table is decorated, you can start thinking about your menu.  Do whatever feels right for you and your family and friends needs.
Here are some traditional Easter recipes found from different websites to help you get started.
Classic Devil Eggs Recipe. Now I have never tried deviled eggs before, but Easter and eggs should go together. Here is a Easy Deviled Egg Recipe to try for your Easter dinner, Classic Savory Deviled Eggs.
Carrot Cake. I seem to the be the only one in my family not too keen on carrot cake. I love carrots, but just not as a cake. However, if many of your friends and family love carrot cake here is a simple recipe. The link to the recipe is found here, Incredibly Moist and Easy Carrot Cake Recipe.
Strawberry Pie. Now this is my all time favorite pie. I love fresh strawberries, and in my family's recipe that my mom found years ago in a magazine, it coupled the strawberries with dark chocolate in the filling. It was absolutely delicious. However, I can't seem to find that recipe, so I am substituting for this one. This one looks just as delicious, just omitting the chocolate. The link to the recipe is found here Fresh Strawberry Pie.