There is nothing I like more to do than to come home from a long day at work  to a cup of tea and a freshly baked scone ( when I have time to bake!)
Here is a quick recipe for your tea time.  Enjoy!
Banana Bread Scones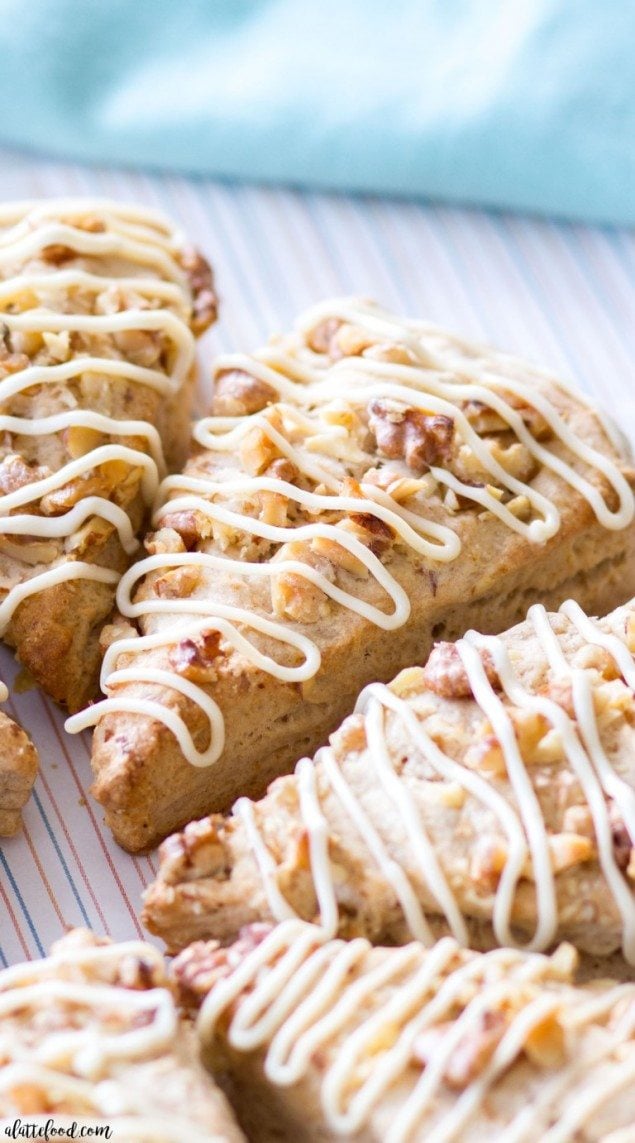 Prep Time: 20 mins         Cook Time: 16 mins       Total time:36 mins
Sweetened with maple syrup and tasting just like a sweet loaf of banana bread, these scones are light, full of flavor, and topped with a maple cream cheese icing.
Author: Michelle Verkade
Recipe Type: Baking
Serves: 8 scones
Ingredients
Naturally Sweetened Banana Bread Scones
2½ cups all purpose flour
1 tsp ground cinnamon
2 tsp baking powder
8 Tbsp cold butter, cubed
4 Tbsp pure maple syrup
1 tsp vanilla extract
1 large banana, mashed
¼ cup milk
¼ cup light sour cream (or greek yogurt)
Naturally Sweetened Cream Cheese Icing
4 Tbsp butter, softened
4 oz cream cheese, softened
3 Tbsp pure maple syrup
Topping
½ cup roughly chopped walnuts (optional)
Instructions
Preheat oven to 400 degrees and line a baking sheet with parchment paper.
Mix flour, cinnamon, and baking powder together. Add in cold butter, and mix with a pastry cutter until the mixture resembles coarse crumbs.
Add in the mashed banana, vanilla extract, maple syrup, milk, and sour cream (or Greek yogurt), and mix until combined.
Turn the dough out onto a floured surface, and pat the dough into a circle, about 1″ thick. Cut into 8 equal triangles.
Press walnuts onto the tops of each scones.
Bake for 16-17 minutes, or until lightly golden brown.
While the scones are cooling, mix butter and cream cheese together until combined. Add in maple syrup and mix until combined. Put cream cheese icing into a pastry bag and drizzle over each scone.
Recipe found here