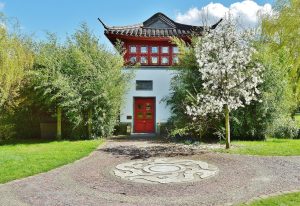 The traditional tea ceremony in Japan has been heavily influenced by Zen Buddhism  The ceremony is based on a 9th cultural practice that involves preparing and presenting powdered green tea (matcha) in a tea house or chashitsu
The first tea house is:
Katsura Rikyu Imperial Villa Shokin Tei.
This is a beautiful tea house resides in a beautiful villa and garden place. To get to the tea house, visitors cross a large stone bridge which brings them to the entrance of the Shikin-tei, a very important tea pavilion at the villa.  Because the entrance is extremely small, visitors have the hunch over to pass through to the interior.  The structure of the tea house consists of a typical Japanese Pavilion and there are eight windows on the side of the entrance.
Yakamo Saryo
This tea house is a restaurant and tea room in one. The tea room, Sabo, sells wagashi  by a confectionery band Bausgubja.  This tea house was founded by the owners of the popular Higashiya  tea salon.  However, what sets this tea room apart from the rest is its seclusion.  It is set back from the streets and the surrounding neighborhood is quiet.  This tea room also boasts of a beautiful garden with plum trees, which you can see from the inside by a well placed window.
En Tea house
En is a small Japanese-style tea house in the geisha and entertainment district of Gion in Kyoto.  This quaint tea house features tatami mat, tea rooms, Kimono clad waitresses, and English speaking staff. you can sample the authentic tea ceremony experience first hand here that is a great introduction to the world of the Japanese tea Ceremony
Ichiriki Chaya
This tea house is one of the most famous  tea house in Kyoto. IT is located at the southeast corner of Shinjo street and Hanami koji. It has an entrance on Hanamiko.   This is one of the places where geisha entertain their guests. Established over 300 years ago it is an exclusive and high end embellishment that is by invitation only and  entertainment can coast and upwards of 800,000 yen a night.
That is all for this short review. I hope you have enjoyed learning about the Japanese Tea Culture.
I know I have.
Have a great day,
Alyssa