As we are learning about Russia, for this months travel adventures, here is a tea recipe that will sure to warm you up
and be great for all your entertaining needs.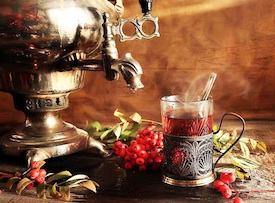 Ingredients
1 -1 1⁄2 cup sugar (or less, to taste)
2 cups instant Tang orange drink
1⁄2cup sweetened iced tea mix powder
1(1/4 ounce) envelope unsweetened lemonade mix
1 teaspoon ground cinnamon
1 teaspoon ground allspice
1⁄2 teaspoon ground cloves
Directions
Combine all ingredients well and store in an airtight container.
To use, fill a mug with boiling water and stir in 2-3 teaspoons of mix, to taste.
If all you can find is presweetened lemonade, then use the amount of dry mix needed for a 2 quart pitcher according to the package instructions and leave out the sugar.
Enjoy!
recipe found here