Autu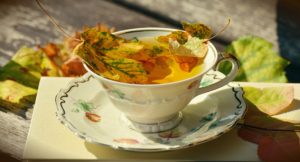 mn is here, and that means lovely fall colors ( at least in some places, not here in Florida unfortunately), apples, pumkins and turtle neck sweaters.
I do love autumn, even though it is the the shortest season for us Floridians.  However, it can be quite sad when summer stops. I know this is especially true for those who live in the northern hemisphere.
So to help those of you who are already starting to feel the crisp cooler air of the changing season, I have some autumn tea and treats to help you get in the mood for autumn.
First up is some delicious apple scones. Who doesn't enjoy apples, and apples taste especially nice heated up.
Fresh Apple Scones    
SCONES
2 3/4 cups King Arthur Unbleached All-Purpose Flour
1/3 cup granulated sugar
3/4 teaspoon salt
1 tablespoon baking powder
1 teaspoon Apple Pie Spice or ground cinnamon
1/2 cup (8 tablespoons) cold butter
3/4 cup chopped fresh apple, in 1/2″ pieces (about half a medium apple); leave the skin on, if you like
3/4 cup cinnamon chips
2 large eggs
1 teaspoon vanilla extract
1/2 cup applesauce, unsweetened preferred
TOPPING
3 tablespoons coarse white sparkling sugar
1/2 teaspoon ground cinnamon
Direction
In a large mixing bowl, whisk together the flour, sugar, salt, baking powder, and spice.
Work in the butter just until the mixture is unevenly crumbly; it's OK for some larger chunks of butter to remain unincorporated.

Stir in the chopped apple and cinnamon chips.

In a separate mixing bowl, whisk together the eggs, vanilla, and applesauce.

Add the liquid ingredients to the dry ingredients and stir until all is moistened and holds together.

Line a baking sheet with parchment; if you don't have parchment, just use it without greasing it. Sprinkle a bit of flour atop the parchment or pan.

Scrape the dough onto the floured parchment or pan, and divide it in half. Gently pat and round each half into a 5″ to 5 1/2″ circle about 3/4″ thick.

To make the topping: Stir together the coarse sugar and cinnamon. Brush each circle with milk, and sprinkle with the topping.

Using a knife or bench knife that you've run under cold water, slice each circle into 6 wedges.

Carefully pull the wedges away from the center to separate them just a bit; there should be about 1/2″ space between them, at their outer edges.

For best texture and highest rise, place the pan of scones in the freezer for 30 minutes, uncovered. While the scones are chilling, preheat the oven to 425°F.

Bake the scones for 18 to 22 minutes, or until they're golden brown. When you pull one away from the others, it should look baked all the way through; the edge shouldn't look wet or unbaked.

Remove the scones from the oven, and cool briefly on the pan. Serve warm. When they're completely cool, wrap in plastic and store at room temperature for up to several days.

Yield: 12 scones.
Recipe found here 
Pumpkin Scones  
Ingredients
Makes: 12 scones
50g margarine
50g caster sugar
1/2 cup cooked mashed pumpkin
1/2 cup milk
1 egg
2 1/2 cups self raising flour
Directions
Preparation:15min  ›  Cook:15min  ›  Ready in:30min
Preheat the oven to 200 degrees C. Prepare a baking tray by dusting with flour.
Cream the margarine and sugar then add the mashed pumpkin and combine well. Add the milk and egg a little at a time.
Sift the flour slowly into the  wet mixture while mixing into a soft dough.
Turn out onto a floured surface, roll out to 3cm thick then cut out the scones.
Place the scones on a tray and brush with additional milk. Bake in the oven for 15 minutes.
recipe found here 
Next are some cookies, beginning with,
Caramel Apple Cookie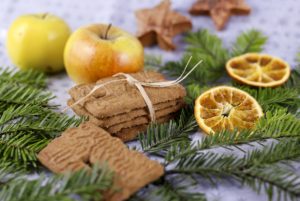 Author: Wendy Sondov / themondaybox.com
Adapted from: http://www.keepitsweetdesserts.com and http://tastesbetterfromscratch.com
Makes: about 22 cookies
Ingredients
¾ cup unsalted butter, room temperature
½ cup granulated sugar
¼ cup brown sugar
¼ cup apple butter
½ teaspoon cinnamon
2 teaspoons vanilla
½ teaspoon salt
2 ¼ teaspoons baking powder
2 ¼ cups all-purpose flour
Caramel Frosting:
3 tablespoons unsalted butter
¼ cup heavy cream
½ cup brown sugar, packed
2 cups confectioners' sugar
1 teaspoon vanilla
Directions
In the bowl of an electric mixer, cream butter and sugars.
Mix in apple butter, cinnamon, vanilla, salt, baking powder, and flour.
Cover in plastic wrap and refrigerate for at least 1 hour or until firm.
When ready to bake: Preheat oven to 350° F. Line a baking sheet with parchment paper.
Scoop dough with medium (2 tablespoon) cookie scoop and place at least 2" apart on prepared baking sheet.
Gently flatten dough balls into ½" thick discs.
Bake for 10-12 minutes.
Cool on baking sheet for 5 minutes, then cool completely on wire racks.
To prepare icing: In a medium saucepan over medium heat, combine the butter, cream, and brown sugar. Stir constantly until boiling.
Remove the pan from the heat and stir in vanilla and 1 cup of the confectioner's sugar.
Cool to room temperature, then add additional confectioner's sugar until the frosting is a spreadable consistency.
Use a knife or spatula to frost each cookie. If using sprinkles to decorate, add them immediately while the frosting is wet.
Allow icing to dry completely before storing.
Store in an airtight container at room temperature for up to 7 days
And last but not least,  Pumpkin cookies
Ingredients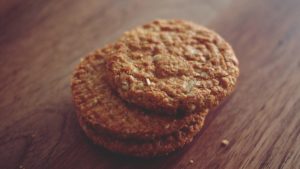 2 cups all-purpose flour
1 teaspoon baking powder
1 teaspoon baking soda
1 1/2 tablespoons pumpkin pie spice
1/2 teaspoon salt 1 stick unsalted butter, softened
1 1/4 cup of sugar
I large egg
I cup of canned pumpkin purée
2 tablespoons of minced candied ginger
Icing 
I cup of confectioner's sugar
2 tablespoons of unsalted butter, melted
I tablespoon of milk
Directions 
Preheat the oven to 350° and line 3 baking sheets with parchment paper. In a small bowl, whisk the flour with the baking powder, baking soda, pumpkin pie spice and salt. In a large bowl, using a handheld electric mixer, beat the butter with the sugar at medium speed until light and fluffy, about 2 minutes. Beat in the egg and vanilla followed by the pumpkin puree and candied ginger. At low speed, beat in the dry ingredients until evenly incorporated.
Using a small ice cream scoop, scoop level tablespoons of the batter onto the prepared baking sheets, 1 inch apart. Using a lightly moistened finger, smooth the tops. Bake the cookies, 1 sheet at a time in the center of the oven, until risen and firm, about 15 minutes.
In a small bowl, combine the confectioners' sugar with the butter and milk and stir until smooth and spreadable. While the cookies are still slightly warm, spoon a teaspoon of the glaze onto each one and spread slightly. Let cool completely, then transfer to a platter.
recipe found here
I hope all of these treats will help you get into the mood for autumn. I will do one on teas and drinks in the next post, so stay tuned.
Have a great day,
Alyssa