As this is a tea blog, I think it is high time that I did a tea room or tea spot review.  A few days ago, I had a perfect opportunity. My sister and I meet up with a friend a new tea place in Winter Park Fl.  It has been ages since I had been to a tea room, the last time I believe I went was when I was 18 as part of a birthday present. That tea room has since closed, and there are not many close to where I live.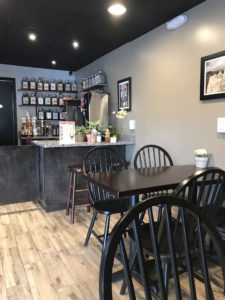 When we arrived, the shop was very quaint and nice. As it was brand new it was tastefully refurbished to give a relaxing atmosphere.   I loved the decorations of teaware were tastefully placed all over the little café.
As for the tea, there were practically endless varieties. It took my sister and I ages to pick out just one to try. As for food, they did have some sandwiches, scones, muffins, and cookies, but remember tea is central here. Also, since it wasn't a tea room, it didn't have the all the fancy high afternoon tea menu items.  I got a peppermint matcha tea, which was very delicious. My sister got Japanese Cherry Tea, which was very beautiful to look at. We also got a blueberry scone and chocolate muffin.
Then our friend arrived, and we spend a very pleasant hour just catching up on life and events. All in all, it was a great tea place with great service and lovely tea.  The cafe is just a  nice place to meet up with someone,  or for people to come to take time to reflect before or after the working day. I do look forward to returning soon.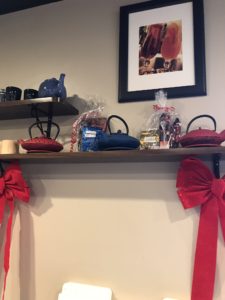 I hope you found this review helpful, and if you are in the area to do stop by and try this new tea place out for yourself.
Alyssa