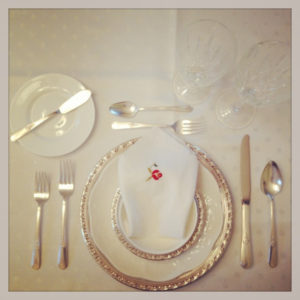 Welcome back!
I hope you all had a lovely Easter. I know I did. I always enjoy spending time with my family.
Today I am going to be talking about everyday elegance. When we brought out our best plates for Easter dinner, it made me wonder why we save the best for special occasions. Why not use them and enjoy them everyday?   I loved  using the fine china to eat my Easter meal as it was a joy to look at and eat my food.
As I love history, I enjoy watching old films. Usually in every single film  there is a dinning scene with people stopping to fuel their bodies and converse with each other.   And they are using fine china.  Such films I am referring to are "Wunderkinder"  "The Town went Wild,"  and "Five Little Peppers and how they Grew," all had meal times using and enjoying their best dinnerware. So why have we fallen out of the habit of using our best and dinning with each other? I think that this is a lost tradition that needs revival.
In her book, " "At Home with Madame Chic." Jennifer Scott , says why we need to use our best, to have everyday elegance  That in using our best, and having everyday elegance, we will find, "We will realize that the present moment is all that we ever have. so why, or why, would we only use that pretty crystal bowl at Christmastime?"  (pg. 230).
So I will challenge you all to use your best china for your tea and any other meal that you have.  Enjoy the pattern of the china, the ear of begone elegance. and a moment to be truly happy to be alive.
Have a great day,
Alyssa
References
Scott, Jennifer, L. (2014). "Madame Chic at Home: Becoming a Connoisseur of Daily Life"  New York: Simon & Schuster