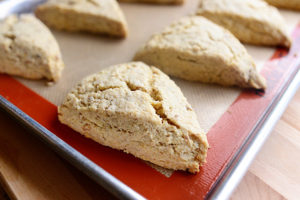 It has been awhile since I have posted a recipe, so I thought today would be perfect.  Especially since the last post was about having a breakfast tea hour, oatmeal scones would be a perfect tea breakfast. Enjoy!
Ingredients
1 1/2 all purpose flour
2 cups oats
1/4 cup of sugar
4 teaspoons of baking powder
1/2 teaspoon of salt
1/2 cup of dried cranberries
1 egg beaten
1/2 cup of butter melted
1/3  cup of milk
Directions
Preheat oven to 425 degrees. Greeze lightly a baking dish or use a baking stone.
In a large bowl add the flour, oats, sugar, baking powder, salt, and cranberries, Mix well.  In a small bowl mix the egg until frothy, then stir in melted butter and milk.  Make a well in the dough mixture and pour in the egg mixture.  Mix to create a soft dough.   Pat dough into two 1/2 thick circles.  Place on baking sheet.  Score eight wedges into each circle of the dough.
Bake for 15 minutes, until it is risen and golden. Cut the wedges and serve.
Enjoy and have a great tea hour!
Alyssa
recipe found here