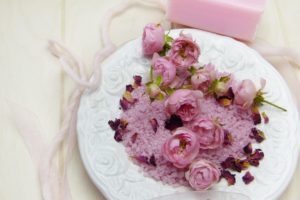 Yes, you can have a spa with your favorite teas. Tea cannot only be consumed, but also has great healing properties when used for various skin ailments. Not to mention that it has a relaxing or stimulating qualities depending on the tea that you use. So let's get started for your tea spa.  Let's start with the key items that you need for your spa.
Tea bath bombs
Tea bath salts
Tea soap
Tea oil
massaging oil or brush
Now, once you have either made or gather these items from your favorite apothecary shop, it is time for a spa. You don't have to wait until evening to have your spa. You can do it in the morning or basically whenever you fancy. Grab some candles (why not scented tea candles?) a great book that you have wanted to read, fill your bath with your salts and bombs and just make yourself enjoy the relaxing atmosphere.
You can do all of these things at once, or if you are like me and don't have much time to spare, just one every so often. The most I used is tea oil, and my favorite is Rose Hip oil. I use this oil every night before I go to bed. Using this oil has certainly helped my blemish prone oily skin feel and look much better.
Let me know in the comments how you like to spending a relaxing day at the spa. I have never been to a true spa before, so if you have any suggestions of what I might add you can also comment or message me. I would love to hear your stories.
Have a great day,
Alyssa