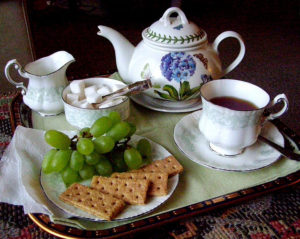 Hello all,
In today's post we will be looking at how to have a hospitable tea at the last moment. A friend you haven't seen in a while is in town and wants to drop by in the afternoon. You haven't gotten the housework done or made your weekly  trip to the grocery store. And your friend  is coming in an hour. Well fret not, I have some tips to help you get ready in an hour from being frazeled to being a wonderful hostess.
The clock is ticking. Ready, let's begin
The floor and furniture
Aimed time 10-15 minutes
Gather all you laundry and put the ones you have folded away promptly and just put the rest of the clothes  in a great big  laundry basket. Or if you are almost done just throw in the last load in the washer and dryer.  Next bring out the vaccum and run through all the rooms your guest will see and make sure there is nothing on the floor or furniture.  Dust and put anything away that are on those furniture. You are halfway done.
Clear the kitchen
10 minutes-15 minutes
Unload the dishes and put away any other dishes or items on the kichen counter. Vacum the floor and mop. While your floor is drying mop and clean the bathroom. Take all full trash out.  Once the kitchen and bathroom are put back together, you are ready to bake.
Bake
15-25 minutes
Put on the teapot and bake some basic cookies. I usually love making some sort of sugar cookies. I recently made some lemon sugar cookies, which were delicious. Here is the recipe.
Make a quick batch of egg salad and cut the bread with some cookie cutters for a beautiful presentation.
Enjoy your Time with your friend
The last few minutes are going by. By this time you should have the house in fairly clean shape. Have a nice tea brewing. The dishes are laid out and the sandwiches and cookies are made.  Now light a candle, put some fresh flowers ( or fake ones) on the table, smooth your hair, remove your apron and enjoy your time with your friend.
I hope this was helpful. I recently did this for a friend of mine who is going out of state to grad school. It was settled at the last minute, but using the tips above I was able to get my work done in under an hour and was ready to enjoy the afternoon with my friend.
Have a great week,
Alyssa