Here is my tea review as promised.
As I said last month, I recently purchased two new tea flavors to try. I always like to research and find new teas that can help with many health aliments, energy and focus.  I mean we all can dream that it would be easy to sleep well, eat well, and be very healthy in general. But real life takes  over and suddenly, especially since school is in full swing, we can lose sleep, not eat well, and feel tired overall. That is why I decided to do tea reviews.
So without further ado, let us get started in reviewing the two teas I purchased in September.
The first tea we will review is "Rise and Shine Tea."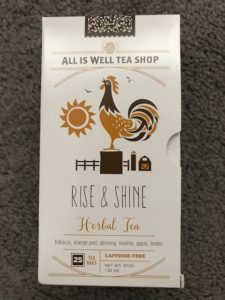 This is a really good tea. It has an infusion of herbal fruity flavors. This is a perfect wake me up for starting the day. I like using this tea if I know I have a lot to do and want to stay focus throughout the morning.    The tea bag can be used multiple times. One tip is not to over steep the tea, as it will make it too strong, unless you really like strong herbal fruity flavors. Other than that, this is a great tea, and I quite enjoy sipping it in the morning.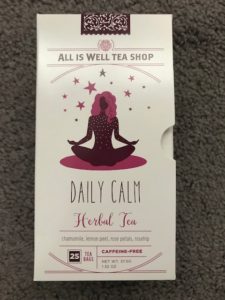 Moving on to my last tea that I purchased in September  which was the  "Daily Calm Herbal Tea" This tea is really good for relaxing after a hard day at work. There is chamomile in this tea.  This is my favorite herb and it is well known for it's relaxing qualities. There is also a hint of lemon, rose, and rose hip. I love sipping on this and unwinding for the day. I love the strong taste of chamomile. This herb always seems to make me relax and prepare me for sleep. So, if you are looking for something to calm and relax  you other than a sleeping pill, then try out this tea. I would definitely recommended it.
I hope you enjoyed this tea review. Let me know what other teas I should try out. Let suggestions in the comments.
Have a great weekend,
Alyssa