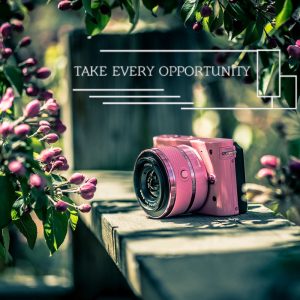 In today's reflection post, I am going to talk about taking opportunities.
Oftentimes,  we are afraid to do something that can and will be life-changing. My sister and I have been talking about this a lot. As we are fresh out of college and have few commitments, we decided that we will take opportunities as they come.  We don't want to be regretful when we do settle down, have more commitments with family, job, etc, and don't have the time as we do now to pursue our passions.
After a lot of thought and decision, my sister and I are going to audit a college course, and take music lessons again. We are very excited, but also nervous, as with anything new.  But with our new challenge of trying not to spend any money on material items, it seems like a perfect thing for us to do. We won't accumulate much, just more books and music, but have more wisdom and skills, that we might not have acquired if we did not invest in ourselves.
So my advice if you want to do something, have the time and the desire, then go for it. You do not want to be regretful in a few years when you don't have the time, but still have the passion and desire to do it. Just imagine what it would be like to not have many regrets when you are old and looking back on your life. Of course, regrets are part of life, but if you feel like you should do something, and know that you will regret not doing it when you are old, then by all means go for it.
Alright, that is all for this reflection post. I hope you all pursue your dreams and passions. I often think about what would have happened if I had not taken the leap last year to start a website. I might not be where I am today.
Have a wonderful day,
Alyssa