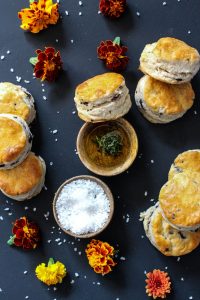 I don't know about you, but I love scones. I love their sweet, buttery texture. And I enjoy how easy they are to bake, which makes for a good impromptu snack.
Today, I am going to share a brief history of the scone.
Ready, Let's begin!
The scone originated in Scotland as a Scottish quick bread.   This bread was made with oats and baked on a griddle over an open fire. In these days, way before the intervention of baking powder, the leavening agent was buttermilk.  Additionally, scones were baked in rounds and then cut into wedges.
According to Webster's Dictionary, scones originated during the 1500's in Scotland. The first known reference to scones in print is from a Scottish poet in 1513.  As for the origin of the word "Skone' there are some that say that is derived from the Dutch word "Schoobrot" which means beautiful bread.  Others say that the name is from the Stone of Destiny ( or Scone). This is the place where Scottish kings were crowned.
Regardless of the origins, scones are a delicious treat, and are now  a  staple of afternoon tea.
So go now and make yourselves some scones!
Have a happy day,
Alyssa