Valentine's day cannot be any more special than with a special tea with your special friends or person.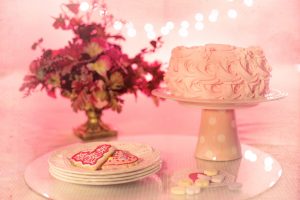 A party cannot be a party without friends. Get your invitations out at least two to three weeks early. If this step is forgotten, there are plenty of e-card and invitations that you can send directly to email.  Once this is done, you can start planning your menu and table.
For this tea, it is more than alright to have chocolate tea.  Here are some suggestions,
Chocolate Mint Tea
Chocolate Chip Tea
Chocolate Tea
Here are some other teas that you can serve
China Keemun Spring  Mao Feug  Tea
Rose Tea (Yes there is such a thing!)
Lavender Tea
Jasmine Tea
Chai Tea
Now you can start on the menu.  Menu planning is all about your style and taste as well as your guests. Also, what kind of tea are you having, a full English Afternoon Tea, a Buffet Style tea, or just a dessert tea. Take this into consideration when planning your menu.  Also, keep in mind your guests tastes and preferences. Always make sure that you don't have the same spices in every dessert and keep the savories well-balanced with different kinds of spices and flavors.
Now you are ready to decorate your table.
First Drape the table in a beautiful white tablecloth.
Then set out your favorite china dishware and silver, with either white, red, or pink table napkins ( or if you want you can use all three colors.)
Then get your centerpiece ready. If you made a cake this would be the perfect place to display it. Or if not, roses or any kind of flowers would work.  Arrange any leftover flowers in small vases around the food platters.  Now arrange your food platters, tiered trays, and your favorite china and silver.
After the arranging the table is done, all that is left to do is to prepare the food and arrange it. This is usually done the night before and the day of the party.
Now, at last you are ready to host your Valentine's day party.
I hope these ideas and tips were helpful, and have a lovely Saturday,
Alyssa