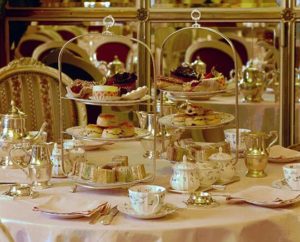 Hello dear readers,
Thanksgiving is only days away. There are only a few holidays where we get to baking and put out our best table cloth and dinnerware. So why not turn this holiday into a high tea event?
When I was growing up, my mother would always put out our very best white table cloth, china, and silverware on our table.  I  always loved looking at all the fancy dishes and delicate china. However, this holiday can be also very stressful. This is because of the unfamiliarity most of us have with formal dinner planning.  Furthermore, this is especially true , if you are not used to cooking or doing any table display,  and have family coming over to your house and you don't want to mess up.
So here is a schedule to maximize your time before the big day arrives.
1. Tuesday-plan out your menu and make a shopping list. I would advise you to do this first as there will inevitably be a Thanksgiving rush to the store, that you don't want to have to make. I remember fondly several occasions where my dad had to find a place that was open and brave the line. This happened usually when we had forgotten to put an item on the list or had messed up a recipe. So do plan accordingly to your needs ( especially if you are a very nervous person in the kitchen when it is a big event like I am). Also find a nice floral arrangement. Flowers always make a table complete.
2. Wednesday- Table arrangements. Get that white table cloth or whatever cloth your going to used washed and pressed. Also wash and press any napkins that you will be using. Find any napkin rings or decorations that you want to use for the napkins. If you lack creativity, do a search for easy table decorations. Googling table decorations has been a lifesaver for the small amount of parities that I have given.  Wash and if needed polish your silver. Also, if you didn't have time yesterday, now is the time to find a pretty floral arrangement, and keep it cold. Also, if you can, make any dish that can be kept overnight. Not only will this help you from staying in the kitchen for the first hour or two of thanksgiving, it will help you be more relaxed and more able to visit with all you family and friends.
Thursday- start by getting your table arrangements all laid out, arrange your flowers and centerpiece. Put the turkey in the oven, along with any other dishes that need to be cooked. My mother always timed all of our dishes, so that they would all be still hot when it was time to eat. The turkey went first, then the potato casserole, then carrot souffle, green bean casserole, and last but not least stuffing and gravy. So we basically had five or more dishes in the oven at any one time.   If your style is self serve, then arrange tiers for small finger foods, such as grapes, crackers and cheese, nuts, and any finger food that you prefer on the dinning room table.  Then lay the main dishes around the appetizers when they are finished cooking. If your thanksgiving is more of a formal dinner, then have the main dishes and appetizers  on a side table, either in the same room, or in the kitchen.  Also arrange for a tea and coffee station, it is a Thanksgiving tea after all.
I hope this schedule helps you with any jitters or stress for this holiday. Really take this time to enjoy being around your family members, especially those who you haven't seen in awhile. And as always, don't be intimidated to ask for help if you are in doubt or don't know that you are doing, there will be people ( as in your grandmother, mom, etc) who will be more than willing to help you out.
Have a happy Thanksgiving,
Alyssa