Hello All!
Since Valentine's Day is just around the corner, I thought I would share some delicious cakes that will wow your party guests.
Making cakes can be a daunting task, but I hope these cakes will be easy for you to make.
So first up is:
Chocolate Layer Cake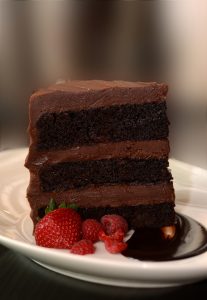 Frosted with velvety smooth chocolate icing, this chocolate cake is a dessert irresistible to cocoa lovers! Top with fresh strawberries or other fruit.
Ingredients
Chocolate Cake:
1 cup (250 mL) butter, softened
1-1/2 cups (375 mL) granulated sugar
2 eggs
1 tsp (5 mL) vanilla
2 cups (500 mL) all-purpose flour
1/2 cup (125 mL) cocoa powder
1 tsp (5 mL) each baking powder and baking soda
1/4 tsp (1 mL) salt
1-1/2 cups (375 mL) buttermilk
Chocolate Icing:
1-1/2 cups (375 mL) Unsalted butter, softened
1/2 cup (125 mL) whipping cream
1 tbsp (15 mL) vanilla
3 cups (750 mL) icing sugar
6 oz (175 g) Unsweetened chocolate, chopped, melted and cooled
Preparation
Chocolate Cake: Grease two 8-inch (2L) springform pans or grease two 8-inch (1.2 L) round metal cake pans and line bottoms with parchment or waxed paper. Set aside.In large bowl, beat butter with sugar until light and fluffy. Beat in eggs, 1 at a time; beat in vanilla. In separate bowl, sift together flour, cocoa, baking powder, baking soda and salt. With wooden spoon, stir into butter mixture alternately with buttermilk, making 3 additions of dry ingredients and 2 of buttermilk. Spoon into prepared pans, smoothing tops.

Bake in centre of 350°F (180°C) oven for 30 to 35 minutes or until cake tester inserted in centre comes out clean. Let cool on racks for 20 minutes. Remove from pans; let cool completely on racks. (Make-ahead: Wrap layers separately in plastic wrap and refrigerate for up to 1 day or overwrap with heavy-duty foil and freeze for up to 2 weeks.)

Cut each cake horizontally into 2 layers.

Chocolate Icing: In bowl, beat butter until fluffy; gradually beat in cream. Beat in vanilla. Beat in icing sugar, 1 cup (250 mL) at a time. Beat in melted chocolate until fluffy and smooth.

Place 1 layer, cut side up, on cake plate. Slide strips of waxed paper between cake and plate. Spread cut side with about 3/4 cup (175 mL) of the icing; cover with remaining half, cut side down. Spread top with another 3/4 cup (75 mL) of the icing. Repeat with remaining layers, spreading remaining icing over side and top. Remove paper strips. (Make ahead: Cover loosely and refrigerate for up to 2 days. Let come to room temperature before serving.)
Servings: 12
recipe found here 
Now for the fruit and berry lovers:
Roasted Strawberry Pavlova Cake with Coconut Cream    
This pavlova cake is the loveliest of lovelies. Light yet luxurious, and a textural delight, you'll be berry pleased you made this. (Gluten Free + Dairy Free)
Ingredients
FOR THE ROASTED STRAWBERRIES:
1 pound strawberries, hulled and halved
1 tablespoon sugar
1 tablespoon balsamic vinegar
1 teaspoon vanilla
1/4 teaspoon kosher salt
1/8 teaspoon ground black pepper
FOR THE MERINGUE:
2 large egg whites
1/8 teaspoon salt
1/4 teaspoon vanilla
1/8 teaspoon cream of tartar
1/2 cup sugar
2 teaspoons cornstarch, sifted
FOR THE STRAWBERRY SAUCE:
1 pint (8 oz) strawberries, hulled and quartered
1/3 cup sugar
1 teaspoon lemon juice
FOR THE THE COCONUT CREAM:
14 oz can of full-fat, unsweetened coconut milk (Recommended: Trader Joe's Coconut Cream)
3 tablespoons confectioner's sugar
TO GARNISH:
Fresh strawberries, whole and sliced
Toasted coconut chips
Instructions
FOR THE ROASTED STRAWBERRIES:
Preheat oven to 350 F.
Place all ingredients onto a parchment paper-lined baking sheet and toss to combine. Spread the strawberries out evenly. Roast until soft and jammy, about 25 minutes. Transfer to a container and let cool.
FOR THE MERINGUE:
Adjust the oven to 250 F. Line two baking pans with parchment paper.
With an electric mixer, whisk together egg whites, salt, vanilla extract, and cream of tartar on medium high speed until medium peaks form. Slowly add sugar and continue beating until firm peaks form. Fold in cornstarch.
Transfer mixture to a large pastry bag or Ziplock bag. Use scissors to cut an opening about ½-inch in diameter. On the lined baking sheets, pipe the mixture in a spiral, forming four 9-inch circles. You should be able to fit two circles on each baking sheet.
On the last circle, pipe another layer just around the circumference so you create a little wall surrounding a well. This will be the top layer of the cake.
Bake until meringues are crisp on the outside but their consistency resembles marshmallow on the inside, about 1 hour.
FOR THE COCONUT CREAM:
Place the can of coconut milk in the fridge overnight so that the cream solidifies and separates from the water.
Flip the can upside down and open the can. Since all the cream rises to the top, the water will be at the bottom. Opening from the bottom will let you drain it off easily! Pour off the liquid (drink it straight up or save it for a smoothie!).
Spoon out the hardened cream into a large mixing bowl. Sift in the confectioner's sugar. Whisk together until you get smooth, soft peaks.
FOR THE STRAWBERRY SAUCE:
In a small saucepan, combine strawberries, sugar, and lemon juice. Cook over low heat until sugar dissolves. Increase heat to medium high and continue to cook, using a wooden spoon to stir and mash the mixture every so often, until strawberries are soft and have released most of their juice, about 10 minutes. If the mixture gets too thick, add a bit of water until the consistency is loose enough to drizzle. Chill until ready to use (makes about 1 cup).
TO ASSEMBLE:
Take a meringue circle and spread a quarter of the coconut cream on top. Spread a quarter of the roasted strawberries and a drizzle strawberry sauce on top. Repeat with the remaining meringue layers, saving the one with the well for the top layer.
Garnish the top layer with whole and sliced fresh strawberries and coconut chips.
Chill the pavlova cake before serving (if you freeze it, you'll get cleaner cuts). Garnish plates with any leftover strawberry sauce.
recipe found here
Alright, that is all the cakes for now. Remember, sometimes the simplist cakes are the best cakes. If these cakes seem to hard, a nice pound cake with some powder sugar and berries on top will look beautiful for Valentine's Day. Stay tuned for more Valentine's Day Ideas.
Alyssa