Tea is not complete without something sweet!
Although, I have just had a cup of tea without any delicacies, there are times when I just want to treat myself.
Here is some of my favorite scrumptious recipes for that Tea Hour.
Cream Cheese, Celery and Walnut Sandwiches
1/4 pound cream cheese, room temperature
1/4 celery heart, very finely chopped
1/4 cup diced walnuts
white or whole-wheat bread
Parsley sprigs(for garnish)
In a small bowl, beat cream cheese until smooth. Mix in celery and walnuts.
Make sandwiches with cheese mixture. Trim off crusts of bread and cut sandwiches into rectangles or triangles. Garnish plate with sprigs of parsley.
Cream Cheese Mints
2 1/4 cups of confectioners' sugar
3 ounces of soften cream cheese
Peppermint to taste (about 1/4 teaspoon)
Food coloring
Candy molds (optional)
Mash cheese and mix in sugar
If you will be using more than one color, divide mixture and place in separate bowls
Add favoring and color sparingly; if you want soft pastels with a delicate flavor
Sire together until the mixture resembles pie dough
Roll into small balls and roll each ball in granulated sugar or press them into candy molds and unmold at once (shake sugar into mold, if necessary, to prevent sticking).
Basic Scone Recipe
Here is a basic scone recipe that you can any type of fruit and spices to your taste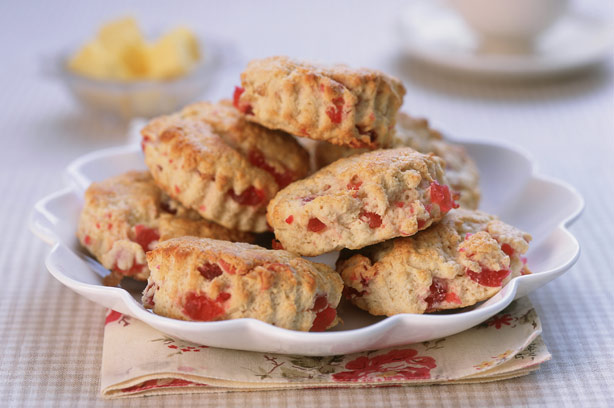 2 cups flour
1 tablespoon baking powder
2 tablespoons sugar
1/2 teaspoon salt
6 tablespoons butter
1/2 cup buttermilk
Lightly beaten egg
Mix dry ingredients. Cut in 6 tablespoons butter until mixture resembles coarse cornmeal.
Make a well in the center and pour in buttermilk. If you don't have buttermilk, use regular milk. Mix until dough clings together and is a bit sticky-don't over-mix. Turn out dough onto a floured surface and shape into a 6-to-8-inch round about 1 1/2 inches thick. Quickly cut into pie wedges or use a large round biscuit cutter to cut circles. The secret of tender scones is a minimum of handling. Place on a ungreased cookie sheet, being sure the sides of scones don't touch each other. Bush with egg for a shiny, beautiful brown scone. Bake a 425 for 10 to 20 minutes, or until light brown.
Serve with jam, clotted cream, or mock devonshire cream. (recipe follows.)
Mock Devonshire Cream

1/2 cup heavy cream or 8 ounces softened cream cheese
2 tablespoons confectioners' sugar
1/2 cup sour cream
In a chilled bowl, beat cream until medium-stiff peaks form, adding sugar during the last few minutes of beating. (If you are using cream crease, just stir together with sugar,) Fold in sour cream and blend. Makes 1 1/2 cups.
Bon appetit,
Alyssa
Pictures found at
weheartit.com
http://weheartit.com/entry/196495001/search?context_type=search&context_user=xristinakrm&query=tea+scones
Good to know
http://www.goodtoknow.co.uk/recipes/130293/Cherry-scones
Kitchen daily
http://www.goodtoknow.co.uk/recipes/130293/Cherry-scones
Recipes are taken from the book If Teacups could Talk, which I highly recommend to any tea enthusiastics!