Since spring is nearly here, I'd thought I will do something I have always wanted to do, plant a rose garden.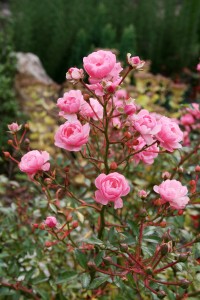 Ever since I was a child, I loved growing things, and most of the plants I grew were successful. I grew sweet potato plants for two years, until they got eaten by some hungry fire ants. I also nearly managed to grow a corn sprout from getting a kernel from a microwavable popcorn, not cooked of course. Then my brother killed it by over watering it. Then I got really busy with school, and did not have the time to experiment with plants as much as I did when I was younger.
Also, since I didn't have access to roses or had the money, I never was able to plant or grow roses. So today, I made the leap, and bought two lovely roses, one climbing, and the other a bush. Once the roses arrive, I will give up dates on how they are doing and how I am tending to them, so stay tuned.
The reason I am doing this, is because I need to be reminded of the simple things in life. So often we get so carried away with work, worry, and life-related stress  that we don't take the time to appreciate the true beauty of the outdoors. I know there have been many times where I spent the whole day indoors.  Also, I want to  invest in things that grow returns. If roses are property cared for  they can grow millions of flowers in a lifetime, which will save on buying roses at the grocery store when needed.
I hope you will join me in this new series, and even get inspired to start a rose garden for yourself.
Alyssa