I am so excited to announce that my tea set arrived the day before my birthday March 24.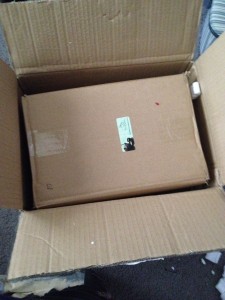 I was so happy that it arrived the day before scheduled, because I worked on my birthday, and didn't want it left on the doorstep all day.
So here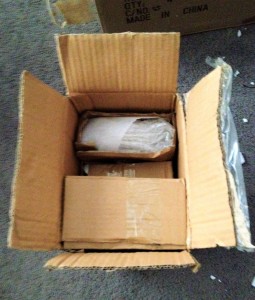 are some pictures of how it arrived.  I was really quite happy that they wrapped the tea set pieces so carefully.  Every piece had bubble wrap around it and in separate cardboard boxes.
I was actually quite surprised at the size of the tea cups and saucers. But I think that is only because I am use to child-size tea cups and saucers, meant for smaller hands. I also was a bit surprised by the heaviness of the glass used for the tea set. But that is actually a good thing, as it makes it less likely that it would be broken.  Other than those things, the tea set was exactly how it was pictured on the website.
Here is the picture of the set all unwrapped.  
All in all, I am very happy with my purchase.  This tea set will be my first real set, and will hopefully last for a long time and have wonderful memories to go along with it.  Along with the tea set I got three small tins of loose leaf tea of Earl Grey, Apple Spice, and English Breakfast tea.  So now I cannot wait to use these teas for my tea time.
So here is the website that I ordered the tea set from if you are interested in it, they have a variety of tea sets so check it out if you are on the tea hunt Enjoying Tea Website
Also let me know  if you have recently purchased a tea set yourself. I would love to know. I would also know what is your favorite tea set or tea cup that you like to use for your tea hour. Leave your comments below.
Until next time,
Alyssa