Hello,
We are continuing our journey of Famous Tea Rooms across the world. Today we are going to be looking at China's famous tea rooms.
Ready? Let's begin!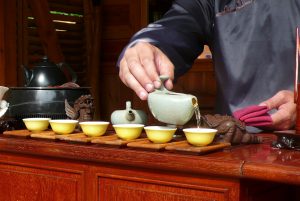 The first tea room  is one in the Begjin Providence
Lao She Teahouse
This teahouse is a household name around China. It was founded in 1988 and named after Lao She, who created a famous drama "The Teahouse."  It is located in Qianmen Street and decorated in the famous Chinese Style.  There is great entertainment which are from folk stories, shadow  plays , Chinese kung Fu, and are held nightly from 7:15 -9:20.  It is the number one place to learn about the folk culture of china.
Tea is served on the third floor, and are served mainly in cups and covered bowls. There about twenty different kinds of tea with homemade biscuits.
In order to see this teahouse, on day advance reservation is required.
information found here
Sentosa Teahouse
This tea house has a business area of 5.000 meters and is a global top 500 high-end tea restaurant. There is a Nanyang Exotic Hall and more than 20 VIP rooms in luxurious and warm Chinese, French, British, American, German, Scandinavian, Mediterranean  and southeast Asian styles.
On the thrived floor is the Oldies  Concert Hall  filled with the classic Beijing nostalgic style and romantic atmosphere.  Every night  famous singers and old Chinese artists will perform the golden oldies from the 1930's and 1940's.
Tea is served from the hometown and abroad, as well as  Western style dishes, and traditional Sichuan and Cantonese cuisine.
Liuxianguan Teahouse
This tea house is located in one of the oldest streets in Beijing, Liuxianguan. It is decorated in classic Confucian style.  An the name liuxian manes lingering virtue.
Inside the tea house over 40 varieties of tea and graceful tea art performances are served.  The hostess of the tea house places hundreds of clay teapots, porcelains, jades, artfully around the tables. Many people come to this tea house not only to enjoy drinking and relaxation, but also to learn about the traditional Chinese culture.
Not surprisingly, this tea house has been listed as one of the few most wanted destinations in Asia, by Times Magazine in 2007.
Deyunshe Sanlitun Theater
In the wast Soho area is the Deyunshe Sanlitun Theater. It is decorated solemnly, with elegant and classical decoration in the interior, with lightnings, an advanced stage, and  central air conditioning.   The stage has a large flat screen  showing Chinese and English subtitles.  The hall can accommodate more than 500 people with its mahogany tables and chairs in the auditorium.  Around the hall there are lovely tea houses and snack shops which provide mouth watering Beijing snacks for visitors to enjoy while watching the performance.
Alright, that is all about the tea houses for now. I might revisit this post as I couldn't find much information about these teahouses except from two sources.
Hope you enjoy reading, and I will see you next time,
Alyssa
information found here