As we are continuing finding great tea rooms in different countries, we are now  going to look at Russia. Since I couldn't find any really famous tea rooms in Russia, I am just going to show you some tea rooms around the area.
Enjoy!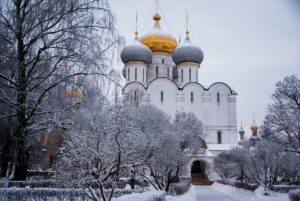 First up is
MariVanna Retro Restaurant
Having tea in this restaurant is a very enjoyable.  A full afternoon tea is offered here, with unfailing service in its unusual retro-soviet surroundings. Additionally, there is a lot of assortments of teas to choose from, with mint tea being the preferred favorite.
Casta Diva Restaurant
If you love your pudding with your afternoon tea, then this is the perfect place for you.  This restaurant is very refined. It has very regal decorations, almost in the style of  French Rocco. The dessert menu is very much like the Italian style cuisine of the highest caliber.
Oblomov Restaurant
Oblomov Restaurant is a historic place. It is located in the old mansion which has been restored after the style of a typical 19th century aristocratic mansion. Elements of its interior have been scooped out from different parts of Russia and bought to the restaurant now in "Oblomov."  You can find forged trunks, magnificent paintings, sideboards, mirrors, wardrobes, and old typing machines.  You can study the history of Russian cuisine after Oblomov's  menu.  Some traditional dishes are cooked according the the old recipes and methods that date several centuries back.  For instance, various kinds of porridge  are cooked in traditional Russian stove, meat roasting in spirits.  However, the modern Russian cuisine is also widely represented on the menu. The restaurants lifestyle also corresponds to old Russian traditions. Every Friday they hold tea parties with samovar and sweets and celebrate all traditional national holidays on the calendar.
Perlov  Tea House
This tea house is quite the attraction with its Chinese architecture, which stands out among the typical Russian structures.  The place became transformed in the 1890's when Sergey Perlov,  a very successful tea merchant, who already opened a tea and coffee shop, was hosting a notable Chinese trader.  He perceived to win the favor of the Chinese, he must present himself and his shop in the typical  Chinese fashion. Although, Perlov failed to attract the favor of the notable tea merchant, the building still is a constant attraction among its Russian population.
Information found on the restaurants webpages.