Happy New Year!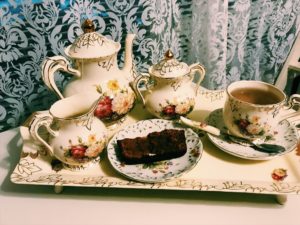 Although, it might be rather sad that the holidays are behind us now, we can all relax a bit more. If you have had a hectic holiday season, and haven't had a chance to refresh yourself, this post is for you.
This goes for me, I really didn't have a day off since the holidays started. Even when I did take the time for a tea time, it still seemed rushed. So today, I decided to have a full blown tea afternoon. So here are some tips for you to have a relaxing tea after the holidays.
1. Get your work done early. Since I want to spend the afternoon having tea and relaxation, I needed to get all my chores/work done early. This way I won't have the stress or the nervousness of not completed tasks that should have been completed. I just did this before I started getting my tea ready. I cleaned my house and my room, and did all my to-do list.  I can say it feels liberating to know that everything is done and I can completely enjoy my relaxation time without worry.
2. Bake or heat up something delicious.   As I have said before, tea is not complete without something sweet. I love having scones with my tea or freshly made bread. Today, I made some Pumpkin Pecan bread. Looks so delicious.
3. Get your room or place set up. I usually take my tea in my room. Since it has been really cold the last couple of days, I love snuggling up with a cozy blanket, socks, and warm hot tea. So grab your favorite socks, sweater, blanket, and get cozy. Tea time is your time, so it doesn't have to be fancy at all.
4. Get out your favorite tea set or tea cup. Today I am going to be using the tea set that I got awhile back for my birthday.
5. Relax. You have done all your work, you have your delicious treats before you, now is the time for you to relax. Light a candle, put on your favorite show, movie, and music, and just let yourself be refreshed and rejuvenated.
I hope these tips were helpful, and I enjoyed sharing my tea time with you today. I wish you a happy and healthy 2018,
Alyssa