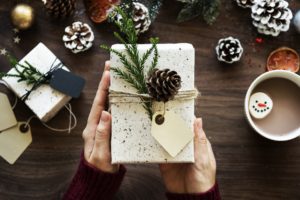 So, it is almost Christmas, and you still don't know what to give your friends.
I have created a nice little gift guide that a tea lover will love.
Tea. A tea lover will appreciate some nice tea.  It can be some beautiful loose leaf tea, or just as simple as tea bags. I know I would appreciate any type of interesting tea or old favorites such as chamomile, English Breakfast, or Green tea. Also, there is such a thing as tea drops, that have enough tea for one cup. This would be a beautiful gift for someone special.
Tea Strainer. You can never have enough tea strainers, especially if you lose them as much as I do. They don't cost a lot, but would add a nice touch to any tea lover's present.
Tea trolley. Anyone who loves tea and hosting tea parties would love a little tea trolley. The reason why a tea trolley is so nice is because you don't have to move anything to accommodate the tea sets and treats. All you do have to do is assemble them on the trolley and you are good to go. I know I would love to have one at some point.
Some savory treats made with tea can also be a nice touch. Find some matcha tea  macarrons, or tea cookies flavored with their favorite tea.
Tea cookbooks. I love cooking and baking, and especially with tea. So find some unusual cookbooks that incorapate tea thoughout the recipes.
Lunch or dinner date at a tea room. Lastly, if you can't find anything unusual, just take that person to a nice tea room. That in itself will be the perfect Christmas present.
I hope this list will be helpful in your Christmas shopping.
Have a lovely day,
Alyssa