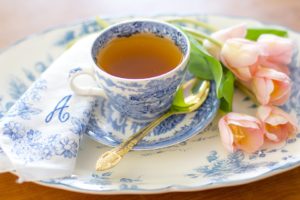 For all those single ladies out there, this tea is for you. You still want to celebrate Valentine's day, but don't have a date or anything planned with your girlfriends. I will show you how to have the perfect Valentine's tea for one.
1. Make your surroundings festive for Valentine's day.  Get out a table, or spuch up your desk. Put away anything that you don't need to have out,  such as your phone, agenda, books. Put your computer on sleep mode.
2. Make your flower arrangements. If have the money, buy a nice flower arrangement and if you don't then fake flowers would work just as well.
3. Make a really nice treat. Now this is not an ordinary tea, its Valentine's tea, so go for the Choclate cake, truffles, chocolates, and strawberries. Arrange them on your nicests china and use your nicest silver. You deserve to use the best, don't save it for later get it out uses it and enjoy it.
4.  Use lovely tea mixes, such as Licorice Tea, Chocolate tea, or any of your favorite dessert teas.
5. Put on your favorite music. If you are still single or just had a breakup- then romantic music is the last thing that you want to listen to. So just put on any music that inspires, enlightens you, and makes you feel positive.
Now you have a tea for a princess. Remember to love yourself, and know that you are special and unique.
Happy Valentine's Day!
Alyssa