As stated in the last post, I will be sharing what the tea that we bought at the Tea and Spice Exchange taste like. I am very excited to taste these teas, as they smell delicious.
So let's start with the first tea, "Creme Brulee Tea"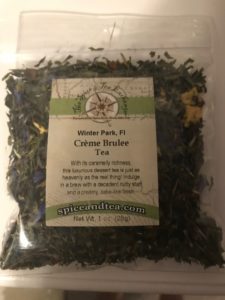 This  tea is very fragrant. You can almost smell the dessert right from the package.  However, the taste isn't as strong as the smell, which is great for those who can't tolerate a very sweet dessert.  It is deliciously, lightly sweet, with a hint of  floral flavor.  This is a great tea for those who are trying to loose weight and still want to have something sweet after dinner.  As for pairing, the Creme Brulee tea would add a delicious touch to lightly sweetened and salty dishes, such as cookie wafers, nut mixes, and so forth. Don't mix with very sweet pastries, or it would be a sweetness overload.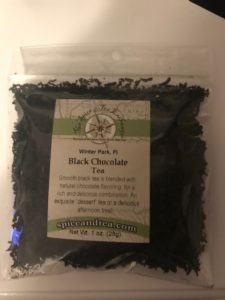 Now onto the next tea,  Black Chocolate Tea. My sister and I had such a hard time debating what types of tea to get, especially on a tight budget.  It was either a very floral or clamming tea such as Chamomile, or Chocolate tea. We decided to go with the Chocolate tea, as we don't get down the the Tea and Spice Exchange very often as a special treat. This tea smells very fragrant, almost similar to the coffee aroma.  Because it has some black tea blended in, it is not very sweet, but a little bitter. Also, as a warning, this tea does have some caffeine, so if you are sensitive to caffeine like I am, make sure you don't take this tea right before bed. If you are trying to break a coffee habit, then this is the tea to  sip, as the taste mildly resembles coffee and smells very similar.  It has a very stimulating, satisfying taste, probably because of the caffeine.  Since this tea is slightly bitter, it would work well with sweets such as lemon scones, raspberry tart, etc.
I hope you enjoyed this tea review. As always, when my budget permits I will give you more tea reviews of interesting tea flavors so you can have a great variety of tea to choose from for your tea hour.
Have a great weekend,
Alyssa