Hello all!
As Valentine's day is j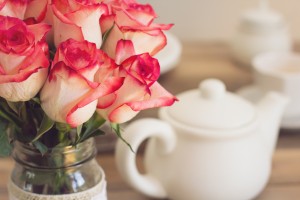 ust around the corner, I thought it would be fitting to do a post on how to have a romantic evening with your hubby or lover.
So let us begin.
Start by preparing the setting.  As it is still winter, a table by the fireplace would be very romantic if you have one. Or if you don't, just set or prepare the evening in your favorite part of the house, which could be the patio, your sitting area, or even your bedroom.
Next, set the table. Get out your most pretty candles and silver silverware. It is after all a special occasion.
Now it is time for the food. Whatever you and your lover like is perfect for the occasion. It could be spaghetti, finger sandwiches, asparagus soup, whatever you like, just make sure it is not any type of fast food!
And lastly, enjoy the meal and the surroundings. A candle light dinner is beautiful and romantic. Take this time to really show and tell your special someone how much you love them. Sadly,   I do not think we say "I love you" enough, so let this be the time to tell them how much you appreciate them and love them.  And don't forget to enjoy it!  Time is so short, so make the most of it, and the memories  you make will last you forever.
What are you planning on doing for Valentine's day? I would love to know in the comments.
As always, see you soon,
Alyssa