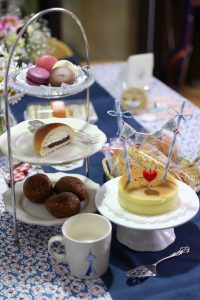 Hello all,
Today we are going to dive into some of the famous Tea Rooms in America. So if you are in the area you can try out these top tea rooms for yourself.
Let's begin.
The first on up is the Dunbar Tea Shop, in Sandwich Massachusetts.
This quaint little tea room is located in a historic carriage house, with a tea room of course, a gift shop, and a patio with a tea garden.  Lunch begins at 11, and has English favorites, as such you would find in England's  Lake District such as homemade soups, salads and distinct sandwiches such as the Farmers Lunch, which is crusty warm bread, with roast beef, horseradish sauce, and English mustard. The tea room also serves imported teas from England. If you are a baker, or just love tea essentials, you will love the tea shop. It sells clotted cream, British jams, tea, and cutlery.
The next one is  Palm Court at the Plaza Hotel,  New York
This hotel recently underwent a $400 million renovation.  With the new furnishings, china, tea linens, and upgraded tea selection, a new elegance has been achieved at the Palm Court.  As this hotel has been recently refurbished, the tea service is perhaps the most expensive, at $60 per person. However, this might be due to the face there are special premium teas that one can sip on such as the unblended "single estate" teas and other premium teas such as black, green, oolong, and white tea.  Also, fresh, warm scones are served with double Devonshire cream  and preserved with a variety of sweets, fruit, and savory dishes such as roasted lamb  loin on grilled pita.
Next up is The Tea Room in Savannah, Georgia
This tea room is inspired by the  Glasglow  tea room design, by a Scottish Architect, Charles Macintosh, which  room owner Elizabeth Rudy, set to capture.  Although the room space is minimal, the food is not.  For lunch there is  seafood  melange and a heirloom tomato Napolean, as well as scones, sweets, and tea sandwiches. The cost per individual is $20.
This St. James Tea Room, in Albuquerque, New Mexico, is a place where you would think you would find in England. The tea room was inspired by  English places such as Oxford college places, such as Stow in the World, in the Cotswolds, and Magdalen.  While it has a very feminine settings, this tea room does offer male-friendly cigar tea, which is a one kind of an event for men.
And lastly is the tea room of Settle Washington, The Queen Mary Tea room.
Who wouldn't want to be a princess?  At this tea room room you can be, well at least for the afternoon. At this tea room  you can  request to wear a tiara for your time at the tea room.  Added to the elegance, this tea room has lace and florals to add to this very dainty elegant tea room.   Some of the items on the menu are Shepard's pie, curry beef pastries, and smoked salmon quiche.
I hope you will find this post helpful, and maybe someday actually go visit them. That is my wish  sometime in the future to do.  If you have already visited them, let us know in the comments about your experience.
Have a happy Tuesday,
Alyssa
Information for this post was  found at this website and the websites of the tea rooms.