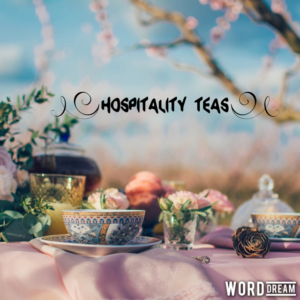 We are continuing our series on hospitality, we have seen how to be hospitable at a moment's notice, how to have a well stocked tea pantry,  and now were will look at why we need to have more hospitatlity tea.
There is a need for this as people are less and less willing to have people over to their houses. The reason why hosting in general has diminished over the years is because o mounting work load pressure and the woes of modern technology. People are busier than ever. Many, because of hard economic times, have to hold multiple jobs just to stay financially stable. However, we need more hospitality teas.
As Michal Kalpakgian writes in his book ,'The Lost Arts of Modern Civilization: How to Taste and See the Abundance of Life' " When homes fail to provide festive occasions where the art of graciousness flourishes, manners decline and sociability suffers" ( Kalpakgian, 2009, pg. 4.).  There is a specific virtues that hospitality cultivates, such as cooking as an act of love, the art of pleasing guests, the art of creating an attractive, cheerful inviting atmosphere, and a spirit of generosity and the job of giving (Kalpakgian, 2009, pg. 6).
Thus, there is a need to implement this lost art in our everyday lives, and why not do it as a hospitability tea.  So how can you have more hospitality teas?
Here are my tips of having hospitability teas.
Make it a priority to have something weekly at your home. This can be a weekly bible study, a game night,  a movie night, or anything that strikes your fancy.  Use the tips from the previous blog post to make sure your home is welcoming and cozy.
Instead of always suggesting of going out for lunch or dinner, host your friends from the comforts of your home. I know that can be hard to do if you have friends that live far away, but if you have friends that are relatively close to one another, just take turns hosting and having parities. You will be surprise at how fun and easy this can be.
Never be ashamed to have guest over at a moments notice. Say that your dear friends are in town for a visit and they are staying close to where you live. Don't hesitate to have them over for lunch or dinner.  This can be a way to catch up and not have to meet anywhere.
Your house is an extention of yourself. When you invite people over, you are in essence inviting them into your space. If you are a good, hospitable hostess, people will find your home warm and inviting. You are able to appreciate them.  Additionally, we are most comfortable in our own home are we not? We cannot host at someone else's house as well as we can in our own. So when you open up your home, you can show you appreciate your friends, want to strengthen your relationship, and value your friendship with them.
I wish you all the best as you try to be more hospitable in your own home.
Have a great week,
Alyssa
Book Referenced
Kalpakgian, Dr. Mitchell (2015-02-19). The Lost Arts of Modern Civilization: How to Taste and See the Abundance of Life . TAN Books. Kindle Edition.