Happy September!
I am back with some different teas to try. I have chosen two types of teas that should help with relaxation, energy and focus. As school is back in full swing, these might be the perfect teas for those of you who are students are in school right now.
The two teas are from a brand called  "All is well Tea Shop.  I will be trying the 'Rise and Shine" and "Daily Calm Tea."
Let's start with the "Rise and Shine" tea.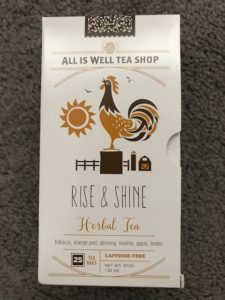 I am not a coffee drinker, but like everyone else, I  like to have something that will wake me up and also give me some energy in the morning. Now I am naturally a morning person, but I do have a mid-morning crash, so  this is the reason why I got this tea.  And since I am in the middle of a  big project deadline, this will be the perfect wake-me up to help me keep focused and energized. This tea has hibiscus, orange peel , ginseng, rosehip, apple, and linden, which sound like a perfect combination to wake you up in the morning.  Also, this tea is caffeine free, which is really nice. So if you are looking for something that is energizing, yet doesn't contain caffeine, this is the tea for you.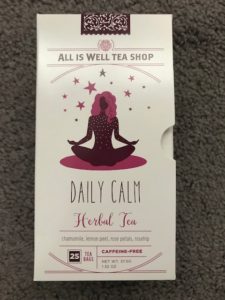 The next tea has to do with relaxation, hence the name," Daily Calm".  We all need to unwind and relax after the day's work.  This is especially true for those of you who are in school or college. We all need to take the time to take the day's stress away. Lately, though, I have been running 24/7 with a special project  for  another blog. So this will help me to actually relax and sleep ( hopefully). This tea has nice calming ingredients such as chamomile, lemon peel, rose petals, and rosehip.
So, these are the teas I will be trying out this month. Look out for a tea review of these teas next month.
As always, have a great week,
Alyssa
P.S. I have a project that I am trying to finish, hence the lack of posts on this blog. Don't worry, I shall be back with by regular posting schedule soon.